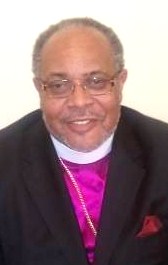 Bishop Gregory Tucker, prelate
Bishop Gregory Tucker, a father, husband, friend and truly a humble servant of God has faithfully served the community as a pastor and leader for 41 years.
His mission is to overseer and assist in meeting the needs of each individual spirit, soul, and body, by bringing them to Christ and his goal is to develop and equip all for the ministry and life's mission to magnify God's name.
Instrumental to his life were the prayers and mentorship of Evangelist Mildred Manley and the late Mother Rosa Minningall which led him to Christ at the age of twelve in the Pentecostal Faith Church - Tuskegee, Alabama.
Within a few years of leaving Alabama and coming to New York, he was ordained an Elder under the leadership of the late Bishop Thomas P. Butler of The Full Gospel Tabernacle.
Bishop Tucker founded One Way Church of Christ in May 1978, which was formed--birthed from The Full Gospel Tabernacle. From humble beginnings, his visions led him to the current location (216-11 Merrick Blvd, Springfield Gardens, NY).
Having faithfully served in the Bible Way Church Westchester, NY District for more than twelve years, his leadership abilities lead him to the position as District-Elder under the direct supervision of Apostle Curtis Brown, Jr in July 1996. In 2000 he was appointed as an overseer in the Bible Way Church Worldwide New York New Vision Diocese until his resignation in 2001. He was then ordained and elevated to the office of Bishop in February 2003 by Apostle Ronald H. Carter. Bishop Tucker has also served in the International Bible Way Church Of Our Lord Jesus Christ for many years in the Empire State - New York Diocese.
He has overseen four Churches; one of his sons in the Gospel independently established the Tehillah Word International Ministries in Laurelton, NY. Bishop Tucker's ministry spans by radio & TV on WGGB 1240 AM Dial and Queens Public TV channel 79 & 35 ministering to thousands. Under this ministry, thousands are fed through outreach via the weekly food pantry and annual community feasts.
God continues to use him to take him to higher and deeper depths - the spiritual and physical growth of his ministry is a testament of his ongoing success. Bishop Tucker holds a BA and Masters Degree from the College of New Rochelle and in addition to his pastoral care, he worked in the New York City Education Department for twenty years as a Home Instruction Teacher. He retired from Home Instruction in June of 2015.